About "Freedom Now!"
This project has three components. At the same time,
"Freedom Now!" remains:
an archival/research project
a project by and for students
a website with a searchable database of documents from the Brown University and Tougaloo College Archives
In the summer of 2002, six students from Brown University and Tougaloo College joined a group of faculty and staff from each campus to conduct research in the Tougaloo College Archives. The project lasted 10 weeks; two at Brown in Providence, Rhode Island and eight at Tougaloo in Jackson, Mississippi. The students chose documents to include in an on-line database and wrote essays based on those documents. You can read about the participants, or learn more about the research process by going to the section on "Archives."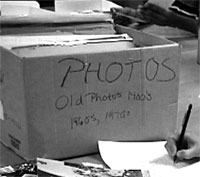 But research brings more research. We realized that one of the most interesting stories we uncovered was one that no one had looked at -- the Brown-Tougaloo Cooperative Exchange within which this project was based. And a group of Brown students and faculty set off to do more research, over an academic year (2002-2003), in the Brown University Archives. We thought that a history of the exchange would also serve as a good teaching tool for students on both campuses, might help both campuses move the exchange into the future, and could very well be the beginnings of a scholarly essay or book. The students received credit for their work as part of an experimental Brown program called "Group Research Projects" funded by the Dean of the College's office. Like the students the previous summer, these students located documents and wrote essays based on them. Over the summer of 2003, a Tougaloo student came to Providence to help finish assembling the website.
So now our website has two halves, joined by the idea that the Brown-Tougaloo Exchange was a product of the Freedom Movement and continues to tie the two schools together.
The website functions as an authentic learning site for the students who located the documents and wrote essays based on them -- who did real historical research and found out the joys and frustrations of that work. We hope it can help introduce others to the histories we discovered.
At the end of our hard work, we remain inspired by the Freedom Movement and the people who died and worked in it; inspired by the students, faculty and staff at Tougaloo College who care so deeply about their history; and inspired by those Brown University who have worked tirelessly to enrich life at Brown by bringing Tougaloo students and stories to our attention.
We must thank our supporters -- those who helped with funding and advice -- and we list them below.
Supporters
President Beverly Hogan, Tougaloo College
President Ruth Simmons, Brown University

Associate Provost Nancy Dunbar, Brown University
Dean of Humanities Bruce O'Hara, Tougaloo College
Dean of the College Paul Armstrong, Brown University


Undergraduate Teaching and Research Assistantships Program, Dean of the College's Office, Brown University
Group Research Projects, Dean of the College's Office, Brown University
Honors Program, Tougaloo College


John Nicholas Brown Center for the Study of American Civilization, Director Steven Lubar, Brown University
University Steering Committee on Slavery and Justice, Brown University


Ford Foundation
We would also like to thank:
Elizabeth Francis, Assistant Director, Development -- Corporate and Foundations, Brown University
Jean Wood, Office Manager, Department of American Civilization, Brown University
Elli Mylonas, Associate Director STG, Computing and Information Services, Brown University
Janet Cooper Nelson, Chaplain, Brown University
Peter Bernstein, Chair, Brown-Tougaloo Committee, Brown Corporation