JEFF TITON
---
I am a professor of ethnomusicology, which is the study of people making music. One of my interests is OLD-TIME FIDDLING. I first became aware of CLYDE DAVENPORT in the mid-1980s when I heard him on a tape made at a festival. Immediately I realized that he was an outstanding old-time fiddler in the style I associated at that time with eastern Kentucky and the music of Bill Stepp and Luther Strong who had recorded for the Library of Congress in the late 1930s.

A few years later I arranged to take a semester of my 1989-90 sabbatic leave in Kentucky as a visiting professor at Berea College, and one of the reasons was my interest in visiting Clyde and learning from him. Early in February of 1990, a couple of weeks after I arrived in Berea, I phoned Clyde, introduced myself, and asked if I could drive down to Monticello to visit him. He was very gracious and invited me to come at any time, so a few days later I took the 90-minute drive and found his house at 120 Boone Street.

I must have visited Clyde about a dozen times during those four months. We talked, played fiddle and banjo together, entertained other visitors who dropped by, ate some food as the hours passed, ran some errands, and talked and played some more. I learned a lot from Clyde, and not just about fiddling.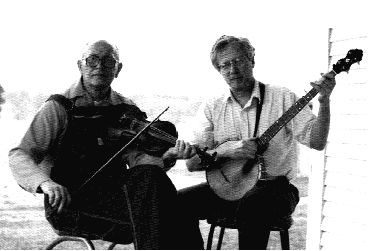 After several visits I asked Clyde why he was so willing to play music with me and let me record and videotape his tunes:
Jeff: This is about the fifth time I've come out to visit you and we've played music together, and I've enjoyed that, and I've enjoyed listening to you, and I want to know why you're so interested in cooperating with the videotaping and the music and all.
Clyde: Well, I've enjoyed that. I've got it figured out like this. There's people knows more than I do about it. And another thing, I'm not jealous. If a man beat me a-playing, I want to hear him. I might learn something. And if anybody wants my music, I'm willing to give it to him. I don't care who it is. If they come here and want my music, they're welcome to it. I enjoy giving it to them.
At other moments, Clyde said he wanted to give his music away so it would be here when he was gone. Clyde feels music was a GIFT to him, and he wants to give it to others:
Jeff: You've been very generous to a lot of people in playing for them.
Clyde: Oh, I like to play for them if they want it. The reason is, I don't want to be the only man that does it. And another thing, I'm a-getting old. I can't be here another hundred years. Well, if it's out and people can do it, let them have it. Isn't that what you'd say? A lot of these fellows won't do that, and they're getting old, too. They won't do it, they don't want to do it without the money. I give mine away. Anybody wants to come here and get it, and I can do it. Of course I'm getting old. I don't play none. I'm getting out of practice, getting old and stiff. Arthritis and everything but I can still play some. So if anybody wants it, they can have it.
Jeff: How do you feel about the young people's interest in your tunes?
Clyde: I'm glad of it. It's something new to them, tunes that they hadn't never heard before. I'm glad I can give it to them and play for them.