CLYDE DAVENPORT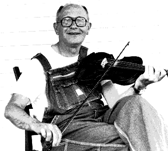 ---
Clyde Davenport, old-time fiddler and banjo player, told me, JEFF TITON, designer of this web, that he was born Oct. 21, 1921 and raised back in the mountains in the Blue Hole Hollow, near Mt. Pisgah on the Cumberland Plateau, not far from the Tennessee line, in south-central Kentucky.

Clyde had five brothers and three sisters. Three of his brothers played the fiddle. So did his father, WILL DAVENPORT, and his grandfather, FRANCIS MARION DAVENPORT. Will Davenport played banjo as well. I asked if any of his sisters or aunts played. Clyde said the only girl musician in the family was a double second cousin who played fiddle and banjo.

Two of the tunes Clyde learned from his father were "DAVY DUGGER," and "SHOOT THAT TURKEY BUZZARD." Another was "LIZA JANE." Many tunes in CLYDE'S REPERTOIRE came from his father, but many others came from people he heard along the way, from radio, and records. Unless the tune was one his father played, Clyde seldom can identify the source.

Starting in his mid-teens, Clyde played for dances in the Mt. Pisgah region, traveling in the mountains to play at some person's home for a square dance every Saturday night. Often he went with one of his brothers and, because none of them played banjo, the job of banjo-playing fell to him.

CLYDE'S FIRST FIDDLE was something he made for himself aged nine. He says he just picked up the fiddle and played it. Nobody taught Clyde to play. He believes therefore that his ability on the fiddle is a GIFT.
Clyde has built fiddles throughout his life. He built his first real fiddle as a teenager and swapped it for an army saddle. Unlike his father, he loves to trade. He will trade a better fiddle for a worse just for the sake of trading. He built his first banjo aged sixteen. In the 1970s he had a shop and repaired fiddles. He doesn't own a single fiddle that he built. He sold, traded, or gave them all away. He does own four fiddles, however. He believes that one is an Amati violin.
Clyde remained on his parents' farm until he was drafted into the infantry during World War II. Like a disproportionate number of young men from Appalachia, he saw plenty of front-line combat. Miraculously, he emerged unhurt.
After he left the army, aged 24, he stayed on his dad's farm for a couple of years, then at age 26 or 27 he went to Indiana. He wanted to work, so he worked in a Chrysler plant, in Newcastle, Indiana, stamping numbers on shock absorber covers, on the assembly line.
At the same time, he was playing the fiddle semi-professionally daily on a 15-minute radio show in nearby Muncie. Although he thought that he had sufficient talent, he decided not to become a professional musician. It didn't seem like work. "I wouldn't never have had to work no more, but I wanted to work. I was stout and able to work, then. Well, I was raised to work. Worked ever since I was big enough to pick up a hoe. Love to work. I had a brother'd work day and night if he could get to it. It was all of us wanted to work all the time, and me too. Was never laid, was never fired off a job in my life, never laid off of one." He earned $107 per week at the car factory, which was a lot of money for him. He never thought of himself as a professional fiddler, and never tried to have a career.
Clyde and Lorene were married in 1950. He told me he got married because he felt he was too rowdy and he wanted to settle down. LORENE DAVENPORT and Clyde celebrated their fortieth wedding anniversary last year.
Clyde stopped playing fiddle and banjo altogether from about the age of 35 until he was 52, and he thinks he lost much of his touch on the fiddle and many of his tunes. "But I used to be a fiddler. Boy, it was just like it was greased, man."
For the fan of old-time fiddling, however, Clyde's "arrested development" was a stroke of luck, for if he had decided to continue playing professionally, and perhaps to tour with a band, he would most likely have become a bluegrass fiddler or Nashville session musician, and CLYDE'S AESTHETICS probably would have changed. He might well have abandoned his older repertoire and thought badly of it. This, of course, happened to the vast majority of professional fiddlers in Clyde's generation.

One of the my favorites among the old-time tunes from the older portion of Clyde's repertoire is "JENNY IN THE COTTON PATCH." As you'll hear, or see in my transcription, the tune is in the mixolydian mode, which accounts for some of its "lonesome" sound. Interestingly, the natural scale of the Scottish bagpipe is in the mixolydian mode, suggesting a possible Scottish origin for the mind-set that was responsible for composing so many of these lonesome-sounding Appalachian tunes.
In late 1960s or early 1970s Clyde and Lorene moved back to Wayne County and bought a house in Monticello. He worked for a while as a custodian, then as a fiddle repairman. In the mid-1970s folklorist Charles Wolfe who recorded two albums in which Clyde played banjo behind the fiddling of W. L. Gregory, a veterinarian. He also worked as a helper to the vet. Later in the 1970s folklorist Bobby Fulcher, a banjo player, began visiting Clyde and recording him extensively. Other folklorists and many fiddlers and banjo players including Guthrie Meade, Ray Alden, Alice Gerrard and Andy Cahan visited Clyde and learned some of his tunes and recorded them.
Clyde turned 70 in October of 1991. He and Lorene welcome visitors who are interested in hearing Clyde's music.