Interviewers
---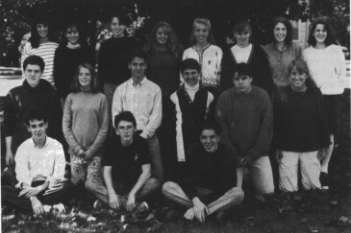 These South Kingstown High School students interviewed women and compiled the "What Did You Do in the War, Grandma?"booklet.
The student interviewers (left to right):
Front Row:
Paul Rogers, Andy Smith, Jason Gelles.
Middle Row:
Ben Tyler, Tara Melish, John Kovacs, Casey Johnson, Dan Fagan, Kristen Elliott.
Back Row:
Kathy O'Grady, Ellie Kaufman, Breana Comiskey, Erika Hodges, Jodi Prochaska, Aileen Keenan, Cassie Richman, and Hannah Gould.
---
Copyright 1995