by Tim O'Brien, author of The Things They Carried
In his remarks, O'Brien addresses issues of truth and fiction and the writer's craft. His comments include anecdotes from his short stories "On the Rainy River" and "Ambush." In both cases, he follows his retelling with some explanatory remarks.
There is a transcript of the speech available here, which links to RealAudio recordings of the event.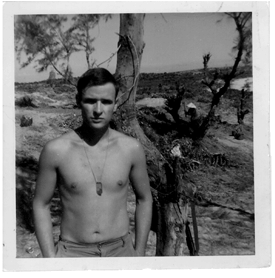 A photograph of the young Tim O'Brien at
LZ Gator during his service in Vietnam.